I would love to share something with you regarding the thoughts of myself and others regarding tourism in Indonesia. I'm sure many of the points that I will cover will already be familiar to you. However, I hope this can contribute something to tourism in Indonesia.
The current plan of building tourism within Indonesia to 20 million visitors a year by 2019 is an ambitious target. A rough calculation shows that annual growth rates should average around 16% per year [source]. Over the last two years, the numbers of international tourists in Indonesia has grown just over 8% each year (8-9 million by last two years). So although the figure of 16% growth is not impossible it is of course a very ambitious target.
During a recent trip to Bali I talked a lot with people involved in the tourism industry about this goal and what it would mean to Indonesia. A statement made by someone working for a large resort operator has stuck in my mind; "Bali is going to be overwhelmed".
Of course, with Bali being so famous, many locals and people think that a doubling of tourism numbers to Indonesia will mean a huge growth in the number of tourists heading to Bali.
The person who made that statement also posed an interesting question, which I have been unable to answer; "Where else tourists are happy and easy to go? Name one destination in Indonesia that is as easy to access, has decent infrastructure and has so much to offer?".
At the time I was tempted to said Komodo, Flores, but wait.. The flight connection is a bit challenging. Umm.. "Bromo! Yogyakarta!" Yet I'm not sure that in the eyes of many foreigners Yogyakarta and Bromo are viewed as easily accessible as Bali.
Enabling easy access to specific destinations within Indonesia will be a key part of helping to balance a growth in inbound tourism within Indonesia. This is especially important for the east of the country – example: places like Raja Ampat, Flores and Sumba – where irregular flight schedules and cost of access make it particularly difficult for people taking short breaks to explore.
Of course this is just one issue. Another factor is the readiness of Indonesia to welcome tourists (whether it is Indonesian or International tourists). I believe that this is a job for all of us. Every citizen needs to understand that what we have (culture, nature, history and everything) is priceless and we need to take good care of it.
So if I had to say two things they would be this:
(1) Creation of tourism hubs. I don't want Bali to get overwhelmed too!
(2) A balance between growth in tourism and preservation of the environment and local culture – it shouldn't be the case that the more people visiting a destination results in pollution and a loss of local culture.
Testimonials – Travelling in Indonesia
Three kind travel bloggers gave me their time to answer several questions from me about travelling in Indonesia. It was nice to see that the answers I received follow the general trends in tourism, but also highlighted popular problems:
– People usually travel in Indonesia for around 2 weeks.
– They travel to popular destinations such as Bali, Bromo and Yogyakarta.
– They have problems usually in transportation, either to heavy traffic in Jakarta or Java (when they travel by land) or difficulties on getting information/ticket booking while in Indonesia.

She travelled to:
Jakarta and Bali. Travel in February 2014 for 2 weeks.
Problems? Was there anything you didn't like about travelling in Indonesia?
Too heavy traffic jam. Minor transport problems. There was a big flood when we arrived in Jakarta. There was a huge traffic jam so we had to travel to Bali by plane instead of local bus.
Her favourite thing:
Interacting with locals. They were such hospitable and friendly people!
Visit Indonesia again? She wants to go to:
Yes. Bali once again, Yogyakarta, Mount Bromo and Lake Toba.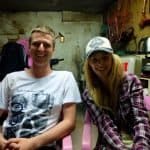 AGNESS. Meet eTramping crew – Agness and Cez – best friends and travel companions from Poland. These two are sharing their budget travel tips on how to travel the world with $25 in your pocket. Since 2011, they have been travelling the world while teaching English in different Asian countries such as China, Thailand or Cambodia. They are both photography passionate obsessed with Chinese cuisine and culture. Facebook | Twitter | Instagram | G+


He travelled to:
Bali – Mount Bromo – Yogyakarta. Travel in 2012 for 10 days.
Problems? Was there anything you didn't like about travelling in Indonesia?
Overall I found travel within Bali to be relatively easy with drivers and cabs. There is an incredible amount of traffic though so at peak hours, we were stuck in moving very slow but nothing that was too terrible. I will say that finding transportation from Bali to Mount Bromo and then Yogyakarta was a bit more of an adventure. Thankfully, I did a lot of research ahead of time to see what others had done and ended up booking something ahead of time.
That being said, that booking process was a bit complicated because it was hard to get questions clarified. The bus ride itself wasn't all that smooth either because we soon realized that it wasn't going to be one continuous bus taking us from place to place. Instead, we found out (to some degree of comedy) that we were being shuffled from bus to bus at certain junctions. As a result, we picked up random folks along the way and were confused most of the way there. Luckily everything worked out (minus the van that broke down along the way). So all in all I would say it's an adventure travelling on the island of Java.
His favourite thing:
I just loved how raw and authentic everything was in Indonesia. Bali is a bit of an exception to it in certain areas but overall I have to say I loved how it wasn't overly developed by tourism and was easy to connect with locals and see every day life happening in front of you. Despite what people will say about the transportation, thinking back on it, I loved the craziness of it all. If I had to pick one thing, I still loved my time in Bali the most in part due to the amazing driver we had to take us around and also the gorgeous scenery of the mountains and rice fields.
Visit Indonesia again? He wants to go to:
Komodo, Flores and Lombok. He also heard a lot of great things about Sumatra and Sulawesi. "TAKE ME BACK!!" he added.

WILL. Will is a travel blogger writing for Going Awesome Places. Since quitting his consulting job in 2012 he's been travelling the world and along the way writing about his epic adventures and taking amazing photos. His true passion lies in telling stories, inspiring others to travel, writing detailed trip itineraries for others to follow and providing helpful tips and tricks to travel better, smarter and more luxuriously. Facebook | Twitter | Instagram | YouTube


She travelled to:
Jakarta – Yogyakarta – Bromo – Ijen – Ubud – Kuta for a day – Makassar – Rantepao – Togean Islands – Manado – Gorontalo – Jakarta. Travel in mid of 2014 for 30 days.
Problems? Was there anything you didn't like about travelling in Indonesia?
In general, I would say no. People I met were always genuinely friendly and helpful, even though some didn't speak much English. I didn't encounter any scams or annoying attention, except for touristy Kuta in Bali where the sellers seemed to be a bit pushy.
There was heavy traffic on Java and driving from Yogyakarta to Bromo took quite a lot of time. Plus, the ride from Rantepao to Ampana (from where the ferry leaves to the Togean Islands) was long and crazy. It was raining heavily and our bus got stuck in a muddy pit in the middle of the night. All the passengers needed to get out and tried to push it back on the road in the rain. Eventually, we were a bit late for the ferry, but still made it there.
Her favourite thing:
The diversity of scenery. One day you hike up to the very top of Ijen volcano to discover those surreal landscapes that seem to be pasted from another planet. The next day you get lost in the lush green rice fields near Ubud. The next day you find yourself snorkeling around jaw-dropping reefs or even plan wrecks, afterwards being invited to a dinner at the sea-gypsy village or to meet with the kids at a beautiful modern school.
Visit Indonesia again? She wants:
Yes! Diving in Raja Ampat, see the Komodo dragon, trek to the Baliem valley during the festival time and meet the orangutans in Borneo.

ELENA. After traveling around Asia and Europe, Elena found her new home in France, where she has been exploring the local cuisine and trying to adept the French lifestyle for the last year. She shares her inspiring stories of live and travels at her blog – Elena's Travelgram.com, along with a bunch of travel tips, city guides and frequent funny misadventures. Facebook | Twitter | Instagram | G+ | Pinterest
Ok, I already share my thoughts and some testimonials. I would love to hear yours. As Indonesian or as a traveller in general what do you think the government should focus on?
This post is written as part of thematic post initiated by Travel Bloggers Indonesia (TBI) community about a letter to Minister of Tourism of Indonesia/thoughts about Indonesia's tourism. Feel free to check out articles from other participants-TBI and non TBI (in alphabetic order):
Bobby Ertanto – Dear Menteri Pariwisata Indonesia
Danan Wahyu – Repackage Visit Indonesia Year
Defi Laila Fazr – Sekelumit Tanda Tanya Perihal Neraca Satelit Pariwisata Nasional
Farchan Noor Rachman – Surat Terbuka Kepada Menteri Pariwisata
Felicia Lasmana – Target 1 Juta Wisman Per Bulan Menurut Seorang Biolog, Pejalan dan Blogger
Firsta Yunida – Thoughts and Testimonials: Tourism in Indonesia
Indri Juwono – Peduli Budaya Lokal Untuk Pariwisata Indonesia
Lenny Lim – Surat Untuk Menteri Pariwisata
Matius Teguh Nugroho – Merenda Asa Untuk Pariwisata Kota Indonesia
Olive Bendon – Indonesia, Belajarlah pada Malaysia
Parahita Satiti – Surat Untuk Pak Arief Yahya
Rijal Fahmi – Pariwisata Indonesia, Dan Segala Problematikanya
Taufan Gio – Kepada Gunung-Gunung Yang Dicuri
Titi Akmar – Secercah Asa Untuk Pariwisata Indonesia
Vika Octavia – Pariwisata Indonesia; Telur dulu, atau Ayam dulu?
Wira Nurmansyah – Sepucuk Surat Untuk Menteri Pariwisata
Yofangga Rayson – Pak Menteri, Padamu Kutitipkan Wisata Negeri

If you are interested in booking accommodation for your holiday in Indonesia I recommend Airbnb. Book through this link to receive a special $25 discount. For hotel bookings I recommend Agoda for its low price and discounts.